Seems this is becoming a thing now (which is absolutely awesome as far as I'm concerned) so here's my project. I've mentioned it a few times before but work is well and truly under way now with hopes that it will be standing on its own wheels and engine fired by October (although) still a long way from finished.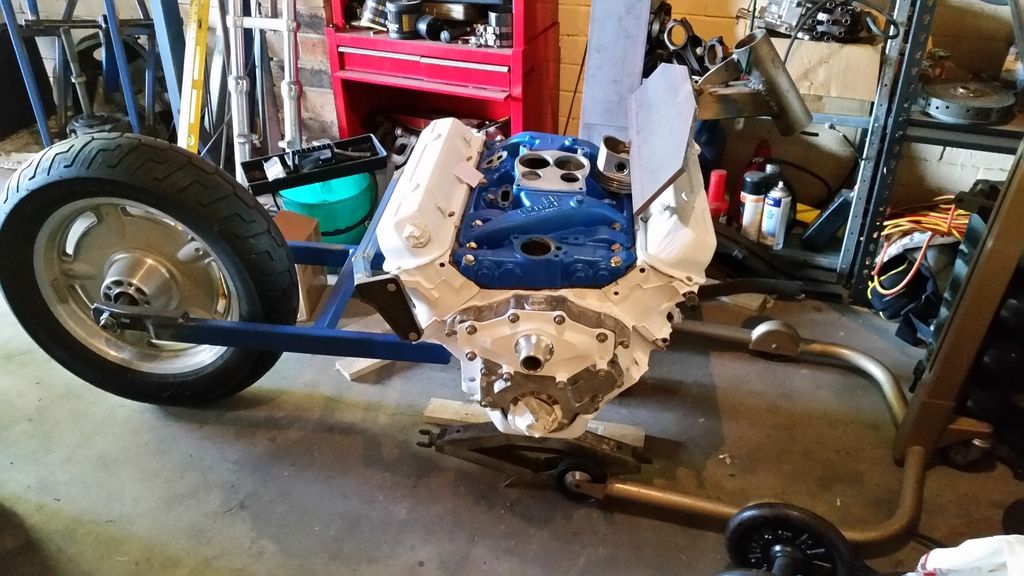 This is basically the bits of the frame that are part way done mocked up on the motor. The frame is entirely modular so the front and rear sections don't meet, but rely on the block and heads to form the central frame member. In addition to what you see there will be diagonals added from the rear axle plates up to the horizontal bar on the rear head, and the front section will have brackets attaching that big plate to the sides of the front head while tubes run down to the engine mounts on the block. Wheels and front end are harley sportster and the engine is a mild rebuild on a holden 253, now measuring 261ci with a little cam and gently massaged heads.
I have a quartermaster 7 1/4" clutch which will run on a two piece jackshaft behind the motor providing direct drive (no gearbox) to the rear wheel.
I'd love to say it will be ready for 2018 but I'm thinking 2019 at the absolute earliest.