World Speed Trials Australia #2
Lake Gairdner South Australia
POSTPONEDto a date yet to be confirmed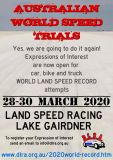 Download a flyer
This is to be a combined FIA and FIM event.
To be run under the regulations of the Federation Internationale de l'Automobile (FIA) and it's Australian associate the Confederation of Australian Motor Sport (CAMS), running international record attempts in FIA classes.
And the Fédération Internationale de Motocyclisme (International Motorcycling Federation) (FIM) and it's Australian associate, Motorcycling Australia, running world record attempts in FIM classes. IMN number is yet to be announced.

All vehicles will be running short distance records for the 1 kilometre and 1 mile from a flying start.
The track will be a maximum of 11 miles long (weather and surface conditions pending) with the maximum distance start line at the 5 mile mark in either direction.
The cost per entry is $1500.
If the event is cancelled before the 9th of February entrants will get 50% of their entry fee back. After that no money back.
NOTE: Each entrant will need to submit their own world record attempt documentation with the FIA or FIM. See below
For other information about this event, check out Advice for Entrants
Sponsors
We are currently pursuing Sponsors for this event, if you or your organisation are looking for a great event to support please read the Sponsors Information
Press Releases and ANNOUNCEMENTS
NEWS
09/04/2020

PRESS RELEASE
Greg Wapling
DLRA President
Dry Lakes Racers Australia
PO Box 349, Castlemaine VIC 3450
info@dlra.org.au

FOR IMMEDIATE RELEASE: 
07/04/2020, Melbourne VIC

DLRA 2020 Speed Week update
On the 16th March the DLRA announced that Speed Week 2020 and the World Speed Trials Australia would be postponed to a date to be announced due to the spread of the Coronavirus (COVID-19).

Since that decision by the DLRA committee was made, the world has become a very different place. 

In the last 2 weeks, the DLRA has been busy developing several different scenarios and there was a poll conducted of key stakeholders of likely dates suitable for later in the year with November being the preferred time, even though it was notoriously windy that time of the year. 

However, there was not enough support for a November date with only 22% indicating that they would or could race in November and 78% indicating that they wanted to race in 2021.
Significantly there is also no indication from the Government as to how long restrictions will be in place or if the Nation is likely to go into a stricter form lock down, making it impossible to even consider a date any time this year.

So sadly, the DLRA have determined they will not be hosting any further land speed events in 2020.

Speed Week 2020 entrants will now have 2 alternatives.
1.    Roll over their entry to 2021. 
2.    Or contact the office for a refund.
Note, entrant refunds will be $100 less than the fee paid, as per the condition on the entry form. Refunds for camping and lake entry fees will only be given when and as requested.

World Speed Trials Australia #2 update

The World Speed Trials Australia will continue to be postponed indefinitely. 
Given the costs incurred by the DLRA in postponing their events for 2020, the DLRA are no longer in a position to sponsor an event of this type. This decision was not taken lightly, but the DLRA could not consider putting the future of their organisation at risk just to continue to promote this event. 
If a sponsor could be found, they would certainly consider running this event in 2021. 
The DLRA certainly recognises the significant costs involved by the participants in obtaining their international licences and equipment for this event and sincerely want to see them get the chance to compete. 
The WSTA entry fee paid to the DLRA by the entrants will be fully refunded.

16/03/2020

PRESS RELEASE
16/03/2020

Dry Lakes Racers Australia Inc
Greg Wapling President
PO Box 349
Castlemaine VIC 3450
info@dlra.org.au

FOR IMMEDIATE RELEASE


The DLRA 30th Anniversary Speed Week and World Speed Trials Australia #2 has been postponed to a date yet to be confirmed.

After exhausting all avenues it is with great sadness that the DLRA has come to the realisation that to conduct Speed Week and WSTA for 2020 has the potential to put people at risk.

Something that it strives to limit and remove from all of it's activities.


There are several key reasons as to why this decision has been made, and we can assure everyone it has not been made lightly.
The strategies that are being deployed to combat this virus by Government and other organisations is placing enormous demands on a finite group of specialists.
Originally we had planned for 3 doctors to be in place for the 2 events, but as of today we only have 1 and there is no guarantee that even he will be available by the end of the week.
Similarly the South Australian Country Fire Service is calling on its members to reduce their extra curricular volunteer activities as they are forced to replace members who have been inflicted with the virus.
We could no longer guarantee the appropriate medical and fire services that are required for such and event.


Now that the Corona Virus has been officially identified as a pandemic, most public liability insurance policies consider any episodes to be exempt which would leave the DLRA open to financial ruin.
Even with the concerted efforts that the DLRA were prepared to put into place through it's mitigation plan would not be enough to ensure a safe, risk free environment.

To our international entrants, we are truly sorry, but with the recent introduction of the 14 day self isolation for anyone entering Australia, it has made competing impossible for many of you.

There will be more information made available in the days to come.


Please bear with us while we regroup and plan for the future.

12/02/2020
FIM Helmets
Jon physically has 2 size large Shark Race R Pro GP FIM Racing #1 helmets in stock. DLRA price is $1300 express posted with insurance anywhere in Aus.
Contact Jon direct.
Jon Guidera | Director, Yamaha World
949 South Rd Melrose Park SA 5039
ph 08 8297 0622
04/02/2020
WSTA Entry Form released
03/02/2020
FIM Supplementary Regs and Entry Form released
19/01/2020
New FIM Helmet requirements
Further to the new FIM helmet requirement. 
See here for the most recent FRHP helmets on the dedicated website.
https://www.frhp.org/circuit%20helmets/homologated-helmets
14/01/2020
FIA Entry Form and WSTA Supplementary Regulations released
03/07/2019
Expressions of Interest Announced