22nd Annual Speed Week
Lake Gairdner South Australia 28th May - 1st June 2012, 19th - 23rd March 2012
EVENT CANCELLED
Rain Date Speed Week CANCELLED 20/05/2012
Just had a phone call from Carol.
"I have just had a phone call from Peter Noy and it is official that we have had to call off our Lake Gairdner event proposed for the 28th May - 1st June, the guys inspecting the lake have found too many inconsistencies in the lakes surface and are unable to get enough good salt to run an event."
The inspection team went out again this morning and could not find enough good salt for even a shortened track. The rain that came through yesterday was still laying on the salt.
As has now be discovered, the problem with this time of the year there is not enough sun or wind to dry up or push around any water. From this experience it would be very unlikely that this time of the year would be considered again.
Just to repeat Speed Week 2012 has been cancelled.
Final Lake Inspection 19/05/2012
From Carol Hadfield.
"I have just had a phone call from the guys inspecting Lake Gairdner and they are not prepared to make a decision on the event until tomorrow afternoon, if it does go ahead it will be a restricted meeting with only a short course, we won't be able to run a long course."
Final Lake Inspection 19/05/2012
The final lake inspection will take place on Saturday 19th May 2012. It is planned to be at the lake by lunch time Saturday. Check the lake and specifically where we could make a suitable track. Depending upon how long this takes they may not be back until Sunday morning at which time there will be a phone hook up with the committee. As soon as possible after this an announcement will be made and posted here, on the forum and on the phone information line.
We know that this is leaving it till the last minute for some of the interstate crews, but you must realise that we are trying to give ourselves the best possible opportunity of running an event in 2012.
Plucka 13/05/2012
For those interstate we can appreciate the extra effort and organisation in getting to the salt with short notice. We will be inspecting the lake and the options re placement of the track mid morning on Saturday. Once we have a decision either way, I will call Carol Hadfield on the Sat phone from the lake and Carol will update the web and call the committee to get it out to everyone. This will be just after lunch saturday. Hope this is timely enough,but it could not have been any sooner, as explained. The 2 Aboriginal Rangers were very impressed with (1.) our knowledge of the lake and what it does and (2.) our committment to its preservation and the manner we went about our business, so much so that the next inspection they were happy not to be there. As long as they are informed our decisions they were happy.
Lake Inspection 12/05/2012
Saturday Night in Pluckas Kitchen.
Arrived at the lake at 1:00PM and met up with DEH rangers to explain and show them what we are about.
Very positive response and much support shown to us.
The ramp area looks to be in great condition.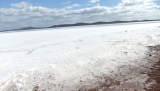 Tested some areas that were looked at 2 weeks ago and previously.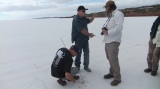 We then proceeded out to the track area and unfortunately found that the area around the 3 1/2 to 4 mile mark to be unsuitable for traffic at this time.
We then turned around and drove south for aproximately 3 3/4 miles and found the salt to be conducive to racing, BUT alas the surface then deteriated to being soft and slushy.
Pending on this coming week's weather a final inspection will be conducted on next Saturday. Sorry we couldn't be bearers of better news.
Cookey
Cookey 09/05/2012
This coming weekend (Saturday 12th) we will be accompanied by 2 of the DEH Rangers who are part of the team responsible for the Lake Gairdner area. These rangers are relatively new to their positions and are coming along to gain a better understanding of our operations leading up and during Speedweek.
Plucka 08/05/2012
No real change from John Moss's last weeks visit which is no surprise being that, it not only was a full moon but a super full one. However yesterday and today have been quite warm with a breeze as well. As explained there was no inspection this weekend conducted due to the SA general meeting in Tailem Bend. Last inspection saw a dry surface other than 10mm of surface water from the shore out to about 100 metres. The rest of the surface looks really good and a good covering of salt has been built up.
Lake Inspection 05/05/2012
No DLRA members went to the lake this past weekend as we were down at Tailem Bend Raceway looking up at the ring around the moon. Plucka may get some word from Mt Ive Station.
Peter Noy, Plucka & myself will be up at the lake early on Saturday next (12th) and will report back to the committee and then post here.
Lake Inspection 28/04/2012
Well, the wife and I and Shane from Adelaide inspected the lake today.
This is what greeted us on arrival
Not as good as a fortnight ago but in my opinion it seems to be about the same as the first time I visited the lake on the Tuesday of Speedweek 2010.
It was wet from the ramp around to the canteen. But only 10-15mm deep. Still with a hard layer of salt about 25mm thick at the shore, ranging to 75mm thick a couple of hundred metres out. Driving the car out left no ruts whatsoever in the surface.
Lake Inspection 21/04/2012
Well Smurf and I just got back from the lake, I assume that most of you had seen the weather forecast, predicting 90% chance of 10mm -15mm over this way. Well arriving at the lake was disappointing to see, the prediction correct and again a vast exspanse of water covering the lake, almost as far as the eye could see. It is not deep (aprox 10mm) and we should not be concerned yet with 5 weeks to go. We have seen more water on the surface than what we saw today and 3 days later we were racing on it. As the rain only started at 5:00 am this morning, lasting several hours, it has not had time to dissolve any of what we had seen in previous weeks at the entrance, however we cant afford any more water. I didnt see the sense in photos as its not how we want to see it.
It also appears that some out sider/s (not associated to DLRA) have been out on the lake flogging around. Both Smurf and I disgusted and dissapointed to see that rubbish going on :x . I rang the Senior Ranger for the area and explained what we saw, so we would not get the blame and he was unaware and will look into it.
The next rotation of monitors will be John Moss/wife and possibly myself again.
Hopefully with better news.
Plucka
Lake Inspection 15/04/2012
John Moss & I arrived at the lake around 1pm yesterday April 14th. We found Mike & Plucka's first reference point & worked from there. The surface has improved slightly since last weekend. Our readings were almost identical with the new salt setting nicely. We found no "potholes" as were evident in March & no surface water.The 5 mile mark is still damp & water dripped off the car after driving through it. At this time it would not sustain continuous traffic, but with warm weather predicted for at least the next week, this will improve. Mossy took photos & will post them soon. Pete Noy. DLRA #6.
Here's the pics
Cheers Mossy
Lake Inspection 06/04/2012
Michael Brixton and myself arrived at the lake about 4.00pm on the 5th April and after a brief look at the lake went on to Mt Ives for the night. Today (6th April) via camp DLRA to collect penetrometer then onto Lake Gairdner. At the shore line there seemed to be quite alot of fresh salt growth and approximately 25mm in thickness. This was stable under vehicle.
We then went from the shore in a direct line towards the start line and @ 50 metre drove the rod through 50mm of again fresh salt build up with then a thin 5mm silt layer which had been washed down onto the surface after the last heavy rains, but under this silt again good salt coverage. At this point it was worth noting that the moisture meter was showing that it was greater than 25 % moisture which was expected with a full moon due to the celestial mechanics which affect the lake and the gravitational bias that at this time sees water being drawn up through the salt surface from the brine layer beneath. The next was @ 100 metres and again great layering of fresh salt of up to 75mm thick then a silt layer of no more than 5 mm then hard salt beneath which was not penetratable.
Then on to 200 metres and the spike did not go into the hard crust surface at all. We then drove out to within 100 metres of the start line coordinates and drove the entire length of the race track out to 12kilometre mark. There was an obvious wet area nearing the creek but quite hard under vehicle. Every kilometre, for the first 5 k's we checked the penetrometer and again very hard and compact with visible new growth. The amount of water that had been on it earlier this year must have left or been blown off quite quickly as the new growth had no crystal like structure to it. We tried to mimic what Smurf and Cookey saw upon their inspection prior race week cancellation and found only one of these in the 12 kilometre stretch, Michael stratched at it going down probably 40 mm then hard salt layer underneath. It will be good to see the next week the difference (if any) with the new moon cycling. I will attach more photos
Plucka
Lake Inspection 24/03/2012
Norm Bradshaw drove out to the lake on Saturday March 24th and found the salt good condition and almost ready to race.
Further lake inspections will take place on the following dates;
April 6th Plucka and Michael Brixton (full moon)
April 14th Peter Noy and Plucka
April 21st Peter Noy and Smurf
April 28th Smurf and John Moss
May 5th Plucka and Michael Brixton (full moon)
May 12th Cookey and John from Gawler
May 19th Cookey and Smurf (final inspection)
For reports please follow this link to the forum
Possible Rain Date and other stuff 22/03/2012
"We had a committee meeting tonight and the following items were decided:
We intend to have another attempt at holding Speedweek 2012 on the week of 28th of May through to 1st of June at Lake Gairdner, this of course depends on the condition of the lake and permission from DEH to do this, we intend to have regular lake inspections carried out weekly in the weeks leading up the scheduled event. David Pluckhahn has undertaken to co-ordinate a roster of South Australian members to provide weekly updates, these findings are to be dated and posted on the DLRA home page.
The AGM is to be held at Lake Gairdner during that week.
We will still have a general meeting at Tailem Bend on the 5th of May commencing at 7pm, the Test and Tune strip will be available during the day from 9am through to 5pm.
We intend to change the dates for our Annual Speedweek to late January/early February, the actual dates will depend on the moon cycle and we will have a rainout date for late May/early June each year starting in 2013.
We will get a newsletter out as soon as possible.
Lake Inspection 09/03/2012
Please ignore any previous notification about Speed Week 2012.
Speed Week for 2012 is officially cancelled.
The lake has up to 200mm of water in some places with more rain expected next Wednesday. There are large "potholes" with a light covering of salt over them the track making it unusable. When you break through them it's just mud.
Lake Inspection 09/03/2012
The lake was inspected this morning and found to be dry and in good condition, even the wind was blowing the right way.
The lake will continue to be monitored over the coming week, but at this stage Speed Week is definately on.
Cled has asked for anyone wanting to ring him to use his mobile, NOT his landline.
Inspection to take place Friday 9th March 2012.
Road was opened to 4WD on Friday 2nd March 2012. Inspection made by air on the 3rd March 2012. See footage on YouTube. Shows water over the majority of the lake, but no idea how deep.

Lake Inspection - An inspection of Lake Gairdner was to take place on the 3rd March 2012. However due to recent heavy rains which have swept right across Australia the dirt roads leading out the the lake have been closed. Do not read into this more than what is there. The Roads Department often force these dirt roads closed as a preventative measure, to limit damage by vehicles that may other wise try and get through. Better to wait a couple of days and have the road dry and in good condition (less work for them). There is a thread on the forum for people to follow if they wish. As soon as there is any news it will appear here and on the forum.
Tech Inspection Day - 10am. Sunday February 19th 2012 At Aussie Desert Cooler, 34 Macquarie Drive, Thomastown 3074. If you have a new car or bike you want to race at the lake in March, this could save you and the tech inspectors a lot of time and frustration. Lionel West and Graham Hadley have volunteered to carry out the inspections and give advice. These guys have a wealth of knowledge and are happy to help. BBQ supplied. Everyone is welcome. Please let me know if you are coming Contact Norm 0425 700 954
Pre Race DLRA Meeting - Sunday February 12th 11 am. sharp - all welcome, at Highway 31, Sydney Rd. Brunswick
The next Tailem Bend Test & Tune weekend is confirmed as FEBRUARY 4th & 5th 2012. Same rules as before, only vehicles constructed to DLRA rule book allowed, full driving/riding suits required. Free overnight camping is available on site, or book accommodation in the town. For more info call me on 0427 777 661, or Michael Brixton 0418 806 650. See ya there ! Pete DLRA #6. (more...)
Volunteers Register now open! As you all know Speed Week cannot operate without volunteers, this register exists to ensure that we have the right number of volunteers where and when we need them.
Entries for Speedweek 2012 are now open and pre-entries do not close until 28th February 2012
Pre-Entries - Where entrants did not request a refund of entry fees from the 2011 event, they will be automatically entered for the Speedweek 2012.
5th June 2012 - dates for Speedweek 2012 were anounced at the Victorian Club meeting . They are 19th to 23rd March 2012. Consideration was given to arranging "rain dates", whilst it's a given that competitors will race any time, the main problem related to volunteers and officials getting additional time off for such an event.
RACING RULES
The DLRA has its own rulebook, this book contains operating procedures, competition requirements, engine class breaks, technical requirements and classes. It is based on the rule book of the Southern California Timing Association. Copies can be supplied by contacting our Chief Steward. There is information on vehicle styles and classes and engine displacements breaks on this site.
NOTE: The rule book is currently under revision with the aim to align as closely as possible with the SCTA Rulebook with some additions for Australian conditions where required. If you are currently building a vehicle you would be wise to contact the Chief Steward for advise on how to proceed. Existing vehicles will have a number of years to transition to the updated rules.
OPERATIONAL PLAN
The Operational Plan describes the requirements to conduct the annual Speedweek held at Lake Gairdner in South Australia by the Dry Lake Racers Australia.
All motoring events have an element of public risk and potential for environmental impact. The Operational Plan has been compiled with due consideration to reduce these risks and to prescribe the tasks required to conduct a safe and enjoyable event for participants and spectators.
CLUB RULES
There are a number of Club Rules and guidelines which competitors and their crews must follow whilst on the salt. Most of these relate to environmental issues. Breaking or ignoring these rules will may see you paying for any restoration work required, depending upon the willfulness and severity you may be removed from the event. As an organisation, we are only allowed access to this unique location whilst we demonstrate care and respect for it.
ENTRY
To compete, each driver must be a member of the Dry Lakers Racers Australia and have completed an entry form, paid the appropriate fees and had their vehicle inspected and passed scrutineering prior to competing. Enquiries about becoming a member should be directed to the Secretary.
VEHICLE INSPECTION
There are technical representatives in each State who are capable of conducting mechanical or safety inspections or to advise on vehicle construction. Please contact the Chief Scruitneer who will make the necessary arrangements.
We have been receiving a number of enquiry's from interested parties who want to use an existing race car and are requesting information as to what class their vehicle applies. Please refer these enquiry's providing details and if possible photos direct to the Chief Scruitneer. It is the owners responsibility to nominate which class and engine break they wish to compete in.
Additional instructions and map of the course will be supplied prior to the Drivers Meeting at the Lake.
Drug & Alcohol testing of both Officials & Participants
The committee has resolved to take this action in awareness that should a serious accident or other incident occur during the event, involving persons affected by drugs or alcohol, it would certainly jeopardise the future of the event & most likely this form of motor sport in Australia.
Our committee wish to safeguard all individuals involved in this unique sport whilst ensuring that they are not placing themselves or others at risk of litigation should the unforseen occur. With this in mind we believe that testing of all involved is a responsible precautionary action.
We envisage that officials & drivers/riders together with other individuals who will be participating would be tested at the commencement of each day. In 2011 only we see this as a public relations exercise – the only penalty for an individual registering a positive reading would be for them to return to the pits area & not be permitted to compete/participate until a negative reading is returned. All officials & competitors will be advised prior to & during the event of the introduction of mandatory testing in 2011.
NEW!! DLRA Phone Information Line - 0435 213 785
We now offer a pre-recorded message of the latest news from the DLRA. This message will change as news and events take place. If you need to talk to someone ring the office, if you want the very latest news ring 0435 213 785, 24 hours a day, 7 days a week.
Spectating
There will be special areas assigned for spectating whilst the cars are racing. The pits will be open for you to enjoy during race times, but for security reasons will be closed to spectators at all other times. Spectator fee for entry to the lake is a flat $25.00 (if your there for a day or a week) per person.
Operational Plan
The Operational Plan describes the requirements to conduct the annual Speedweek held at Lake Gairdner in South Australia by the Dry Lake Racers Australia.
All motoring events have an element of public risk and potential for environmental impact. The Operational Plan has been compiled with due consideration to reduce these risks and to prescribe the tasks required to conduct a safe and enjoyable event for participants and spectators.
A program will be handed out to entrants and spectators, with track layout, race times, rules on Lake and Station property.
Accommodation
You have 3 options;
Mt. Ive homestead has a number of limited rooms, and most of this is booked from one year to the next. There are some shearers rooms available with dormitory style sleeping, but be quick and book ASAP. There is also a camping area at the homestead, tents and caravans are welcome, but you are in the outback so be prepared. Power, water (drinking), food and fuel, you have to be self sufficient, there is some power and showers. The homestead is some 18 km's from the lake. For bookings, contact Mt. Ive homestead direct.
The DLRA camp is where competitors and their teams and regular visitors have purchased beds in semi-permenant structures. For Spectators there are plenty of un-powered sites, with toilets and showers available . The camp is about 6 km's from the lake. No booking required and fees are payable to the DLRA ($10 per night and a $10 diesel levy, $60 for the week) at the merchandise van.
The Mt. Ive camp; located behind the canteen and very close to the lake. All persons intending to use the bush camp at Lake Gairdner are required to take Porta Potties for personal use - human waste is not to be left in the bush. No camp fires are permitted to be lit near the bush or trees surrounding the bush camp. To stay here you really need to be self sufficent. Run by Mt. Ive Homestead, no bookings required, $7 per night, pay at the canteen.

NOTE: There is strictly no camping upon the Lake itself.
The Mt. Ive homestead run a canteen on the edge of the lake operating for the week of the event only, you can buy cold drinks, beer, ice and all your meals there if you wish. They sell cooked breakfast, lunch and dinners, sandwiches etc.. Prices are very reasonable and the dinners very generous.
There will be a number of announcements and press releases leading up to the event. If you wish to be placed on the mailing list, please forward all your contact and publication details, to the DLRA Web Master.
We don't have a press kit other than what you see on these pages. If you require further information please contact the DLRA Web Master.
Commercial photographers and film crews will need to contact the DENR Media Centre for an application form and to obtain permission and pay a fee. If the film or photography is for non commercial use, a permit is not required. Contact the South Australian Department of Environment and Water.
During Speed Week at the lake we need media/press to identify themself with their credentials to officials at the Entrants Caravan, you will be issued with a press pass that will allow you to be there for the week. Registered photographers can gain special access to areas on the track deemed appropriate by the Race Director by prior permission. Typically these will be with the Fire and Rescue vehicles located along the track. At no time will they be allowed outside the spectator area without the express permission of the Race Director.
Whilst on the lake photographers and film crews will be required to wear a high visability vest. It's also a good idea to carry a UHF radio (Channel 8) so that you are informed of events and contactable at all times.
NOTE: Many entrants have not provided their complete or correct class. Please contact me ASAP with details. Same goes for vehicle number, especially if it is different to your membership number. With the new timing system we cannot record your time without these details prior to your run. If we have to collect all these details during racing it's going to slow everthing down, do it now!
This is a work in progress and will be updated several times over th coming weeks.
Pre-Entries have now closed, entries are still being accepted, but will incur a $100 late entry fee.
Record Speeds shown in

BLUE

are the highest speed attained for that class from all previous years
or have never had a vehicle register a speed for that class and are considered

Open

.
Timed (long track) speeds shown to 3 decimal places, speeds to be confirmed by Timer.
GPS (short track) speeds shown to 1 decimal place.
GPS speeds are not recognised for records
P.B. (Personal Best) is for that entrant, in that class.
VR* - those entrants marked with an "X" have nominated for the Volunteers Register (Note: All entrants are expected to nominate for at least one shift doing something)